Click below to order consumables
TheMagicTouch in the UK and Ireland, under their DTFMagic brand, confirm the arrival of an additional printer option to their DTF Direct to Film transfer portfolio with the introduction of the new Mutoh/STS VJ-628D printer.
The existing R-Jet Pro DTF printer is truly fantastic and offers real transfer production capabilities up to 15 sqm per hour but we strongly feel the size and space requirement is restrictive for many potential users. This new desktop option is perfect despite the slower production speed.
The Mutoh/STS DTFVJ-628D, Single head 60cm printer offer speeds up to 6sqm per hour. The printer can be used with the roll-fed automatic finishing unit but also works well with the manual powder and curing process.
For more information or to book an online or in person demonstration please call or email
sales@themagictouch.co.uk
01582 671444
DTF Printers are an alternative process to DTG.
Using a specific kind of water-based ink to print a film transfer. Once the ink is dry, powdered glue is applied it is then heat cured ready for storage or instant use. One of the benefits to DTF Printers is there is no need to use pre-treatment. The powdered glue does this job for you. Once heat pressed you can transfer the soft water based ink to the garment in just 15 seconds.
DTF is an exciting addition to garment decoration that you cannot ignore. Some have shied away from DTG printing in the past because of the pre-treatment process required when using white ink. DTF breaks this cycle and requires no pre-treatment but still offers the soft hand water based ink produces.
We will offer a commercial system that prints onto a 600mm wide roll. Based on a custom printer using the same dual head engine as the R-Jet PRO DTG.
Durability
Because of the durability enhanced by the special ink and adhesive, DTF printing is ideal for workwear. The print doesn't crack like screen printing as it has a very soft hand due to the water-based ink used. This makes the system perfect for garments like overalls, high viz, gym and cycling wear.
The custom built R-Jet DTF Pro system has been designed and built from the ground up. Printing 10m2 an hour with fully automated curing and adhesive application. Therefore the R-Jet PRO DTF is one of the fastes fully automated systems in the UK. Its dual print head technology produces fast single pass prints in high resolution. The quality and vibrancy of the finished garment above all we feel is the best available.
You can use printer as a stand alone without the automated adhesive/curing unit and takes up very little space.
R-Jet Pro DTF
The flagship printer for DTF is the new R-Jet Pro DTF printer featuring the latest in dual print head technology. 2 x 8 channel industrial print heads (2 x CMYK) & (8 x W) and powered using the latest version of Resolute RIP PRO software to ensure control and colour management. Amongst its many features the printer includes the "ink mixing" function to ensure the perfect circulation of the white ink resulting in minimal maintenance or production issues. The wet cap system allows the printer to remain off for periods of up to one month without the need to flush out the white ink.
For those looking for an affordable and reliable alternative to DTG, but prefer the look and feel of textile inks, DTF direct to film technology is exactly what you're looking for. This new technology "Bridges the Gap" between DTG, screen printing and the traditional transfer printing methods.
The finished transfers offer outstanding durability, stretchable and incredible feel and vibrant colours.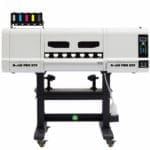 Mutoh/STS VJ-628D
The 630mm wide compact desktop printer, manufactured by Mutoh in Japan, is based on Mutoh's proven Valuejet 628 8-channel printer chassis and Epson industrial print head. The solution offered is a global collaboration with leading ink manufacturers STS who have configured the best entry-level option for those looking to investigate the many opportunities DTF transfer technology offers.
Jim Nicol
Jim Nicol, Managing Director commented "Having considered over the past 12 months the great response and uptake of DTF technology, combined with the success of those now using the process in production environments, we must ensure we are able to offer the right solution for specific customer needs.
The existing R Jet Pro printer is truly fantastic and offers real transfer production capabilities up to 15 sqm per hour but we strongly feel the size and space requirement is restrictive for many potential users. This new desktop option is perfect despite the slower production speed".
The VJ-628D printer easily fits onto an office table or rolling stand option and prints directly to the coated PET film. The printed image then has a powder adhesive applied using an automatic finishing unit. Or a manual process using a desktop curing oven.
Additionally, DTF works equally well on white or dark textiles and allows users to choose a matt or gloss finish. DTF Direct to film requires no pre-treatment. No cutting or weeding, creates crisp and defined edges and images. DTF does not require advanced technical printing knowledge, and produces less waste.
STS based in Florida, USA, have manufactured inks for over 20 years. They offer DTF inks with superb elasticity and durability onto most garments and textiles regardless of composition or colour. STS fully certified inks come with the option of 220cl cartridges or 1 litre bags.
Bespoke RIP Software
The Mutoh DTF direct to film printer prints via bespoke RIP software. The "pre-production cost per transfer" feature is also very useful. The user is able to price each transfer to an exact cost. An example where 24 x 60mm transfers are produced in just over 6 minutes and cost less than 4p each. Then it was applied in this case to a black pique polo shirt.
Demonstrations
The expected arrival of stock in the UK is mid-January. Demonstrations are available via Zoom or at our Dunstable showroom. Printed samples and transfers are also available for evaluation. All pricing is inclusive of delivery, installation and training combined with a one year warranty.