123 Premium (HTV)
The same colour range is also available in 123 Flex.
123Premium Flex  Heat Transfer Vinyl (HTV) offers the same attributes and technical advantages as the existing 123 Flex with the quick press time and the low temperature application options. The Premium version, however, possesses a 'tackier' carrier adhesive. Enabling detailed and complex designs to be easily cut and weeded.
Hot application is a 3-5 second press to the garment at 160°C and a warm peel. No garment pre-press is required.
For easily marked or sensitive fabrics 123 Premium can be applied at 120°C for 20 seconds with a cold peel.
Washable up to 60°C.
Available in 41 colours, with additional white version with embossed backing, for more visible weeding.
Processing Instruction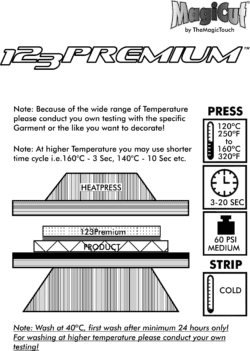 MagiCut HTV is also known as Tshirt Vinyl, Printable Tshirt Vinyl, Clothing Vinyl, T shirt vinyl, T-shirt vinyl.
---
Showing 33–43 of 43 results