DTF Direct To Film Printers and Consumables
DTF Printers are an alternative process to DTG.
Using a specific kind of water-based ink to print a film transfer. Once the ink is dry, powdered glue is applied to the back. Now it is heat cured ready for storage or instant use. One of the benefits to DTF Printers is there is no need to use pre-treatment. The powdered glue does this job for you. Once heat pressed you can transfer the soft water based ink to the garment in just 15 seconds.
DTF is an exciting addition to garment decoration that you cannot ignore. Some have shied away from DTG printing in the past because of the pre-treatment process required when using white ink. DTF breaks this cycle and requires no pre-treatment but still offers the soft hand water based ink produces.
We will offer a commercial system that prints onto a 600mm wide roll. Based on a custom printer using the same dual head engine as the R-Jet PRO DTG.
Durability
Because of the durability enhanced by the special ink and adhesive, DTF printing is ideal for workwear. The print doesn't crack like screen printing as it has a very soft hand due to the water-based ink used. This makes the system perfect for garments like overalls, high viz, gym and cycling wear.
The custom built DTFMagic 60 system has been designed and built from the ground up. Printing 10m2 an hour with fully automated curing and adhesive application. Therefore the DTFMagic 60 is one of the fastest fully automated systems available in the UK. Its dual print head technology produces fast single pass prints in high resolution. The quality and vibrancy of the finished garment above all we feel is the best available.
You can use printer as a stand alone without the automated adhesive/curing unit and takes up very little space.
DTFMagic 60
The flagship printer for DTF is the new DTFMagic 60 printer featuring the latest in dual print head technology. 2 x 8 channel industrial print heads (2 x CMYK) & (8 x W) and powered using the latest version of DTFMagic RIP PRO software to ensure control and colour management. Amongst its many features the printer includes the "ink mixing" function to ensure the perfect circulation of the white ink resulting in minimal maintenance or production issues. The wet cap system allows the printer to remain off for periods of up to one month without the need to flush out the white ink.
For those looking for an affordable and reliable alternative to DTG, but prefer the look and feel of textile inks, DTF technology is exactly what you're looking for. This new technology "Bridges the Gap" between DTG, screen printing and the traditional transfer printing methods.
The finished transfers offer outstanding durability, stretchable and incredible feel and vibrant colours.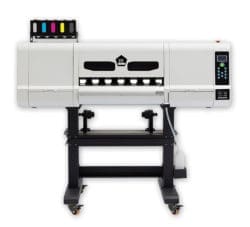 Read More