TheMagicTouch and Resolute DTG
DTF Printing (Direct to Film) TheMagicTouch and Resolute DTG in the UK announce their collaboration together with the joint introduction of the latest in digital image transfer innovation. Both companies for the past 6 months have conducted an extensive evaluation of all things relating to the new DTF Printing technology.
Having the ability to produce short and long-run full colour transfers for garments and textiles, regardless of colour or composition. DTF is compatible with cotton, polyester, leather, softshell, performance fabrics, pique blends, canvas, denim and much more, it is a must for all garment decorators to consider.
Most importantly the new process is simple; firstly print the roll-fed 60cm wide coated PET film using a special pigment based textile ink and then lightly coat the printed transfer with a unique hot-melt adhesive powder. The transfer is cured using either the automatic "Shake & Bake" roll fed unit, heat press or traditional dryer. The cured transfer can be applied immediately to the garment/product using a traditional heat press. Please note no pre-treatment is required.
The flagship printer for DTF printing is the new R-Jet Pro DTF printer featuring the latest in dual print head technology 2 x 8 channel industrial print heads (2 x CMYK) & (8 x W) and powered using the latest version of Resolute RIP PRO software to ensure control and colour management. Amongst its many features the printer includes the "ink mixing" function to ensure the perfect circulation of the white ink resulting in minimal maintenance or production issues. The wet cap system allows the printer to be switched off for periods of up to one month without the need to flush out the white ink.
For those looking for an affordable and reliable alternative to DTG, but prefer the look and feel of textile inks, then the DTF  printing technology is exactly what you are looking for. This new technology "Bridges the Gap" between DTG, screen printing and the traditional transfer printing methods.
Above all the finished transfers offer outstanding durability, stretchable and incredible feel and vibrant colours.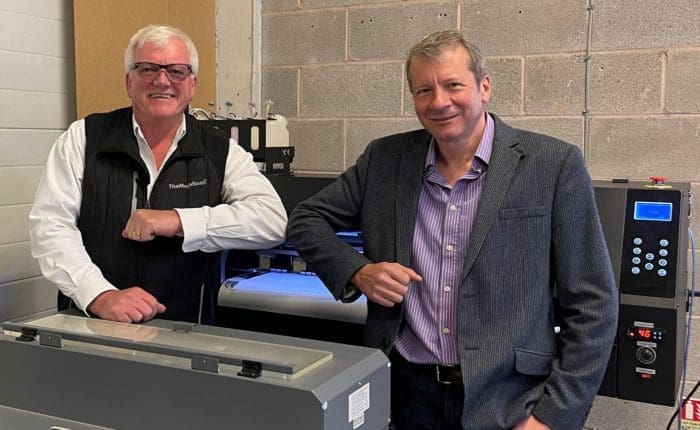 Jim Nicol, Managing Director
Jim Nicol, Managing Director of TheMagicTouch commented, "We have previously opted away from DTG for various reasons and indeed passed any enquiry directly to Colin and his team at Resolute. The DTF printing process is simply the best new transfer solution for many, many years. With our transfer experience combined with Resolute's knowledge and experience with DTG we believe we have the perfect combination to market and more importantly support this product beyond customer expectations. This really is a game changer for this industry".
DTF offers more flexibility with the transfers. You can forward printed transfers elsewhere for application at a later date with a shelf-life of over 2 years, therefore creating another potential revenue stream for the user.
Both TheMagicTouch and Resolute supply the printers and powder units together with the inks, PET film, and consumables, all supported with the highest standard of technical and marketing support.
For further details, samples or to arrange a demonstration contact sales@themagictouch.co.uk or sales@resoluteink.co.uk
DTF Printing is an alternative process to DTG.
Using a specific kind of water-based ink to print a film transfer. Once the ink is dry powdered glue is applied to the back. Now it is heat cured ready for storage or instant use. One of the benefits to DTF Is there is no need to use pre-treatment. The powdered glue does this job for you. Once heat pressed the soft water based ink is transferred to the garment in just 15 seconds.
DTF is an exciting addition to garment decoration that you cannot ignore. Some have shied away from DTG printing in the past because of the pre-treatment process required when using white ink. DTF breaks this cycle and requires no pre-treatment but still offers the soft hand water based ink produces.
We will offer a commercial system that prints onto a 600mm wide roll.  Based on a custom printer using the same dual head engine as the R-Jet PRO DTG.
Durabilty
Because the durability is enhanced by the special ink and adhesive, DTF printing is ideal for workwear. The print doesn't crack like screen printing as it has a very soft hand due to the water-based ink used. This makes the system perfect for garments like overalls, high viz, gym and cycling wear.
The custom built R-Jet DTF Pro system has been designed and built from the ground up. Printing 10m2 an hour with fully automated curing and adhesive application. Therefore the R-Jet PRO DTF is one of the fastest fully automated systems available in the U.K. It's dual print head technology produces fast single pass prints in high resolution. The quality and vibrancy of the finished garment above all we feel is the best available.
You can use printer as a stand alone without the automated adhesive/curing unit and takes up very little space.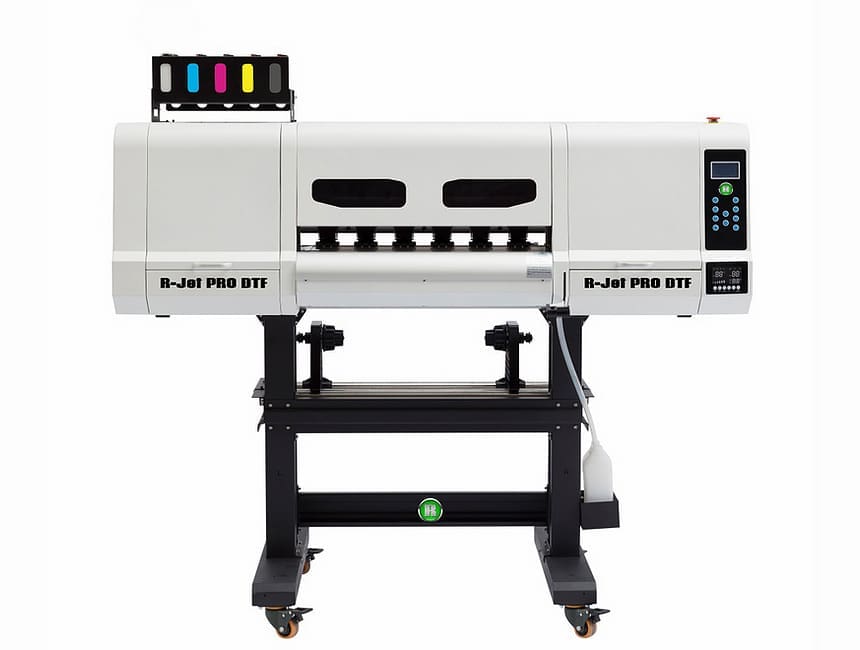 For further details, to request a sample or arrange a demonstration please fill in the form below.