T.One Textile Transfer Paper
T.One Textile Transfer Paper
T.One "One-Step" coated transfer paper for use with selected TMT/OKI printers via SpaceControl. The paper is considered the ultimate solution for cost effective garment transfer that involves no cutting or weeding and most importantly leaves no residue on the finished garment or textile.
Video Tutorial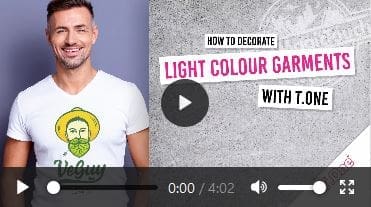 T.One transfer paper enables the user to print full colour designs to any white or dark pastel colour garments or textiles.
T.One compliments the existing 'Two-Step' WoW 7.8 transfer paper used for all black and dark colour garments and textiles used when a higher white opacity is required.
The T.One process is quick and easy with heat press application as low as 140°c.
The printed transfer is sealed using the T.Seal for outstanding wash durability and great feel.
Showing all 6 results