Temporary Tattoo
Temporary Tattoo Transfer Paper
Temporary tattoo media combines elements of fun and excitement for all age groups and is compatible with all colour laser printers and copiers.
Video Tutorial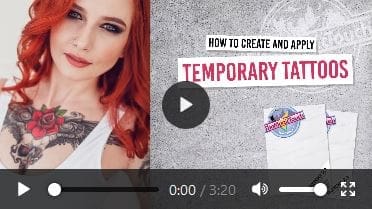 Simply print the design in mirror image (fill the sheet with as many images as possible). Place transfer in position and cover with wet cloth for approximately 10 seconds and press firmly. Remove cloth and slide away transfer.
Available as 10 and 25 set packs – all packs contain tattoo and adhesive sheets
The tattoos are very durable. Even after showering and will last for around one week. Temporary tattoos are easily, safely and quickly removed using hot soapy water. Baby oil is also useful to remove them at any time. Unlike the real tattoos!
The process is also perfect to decorate finger and toe nails. This again continues to be very popular and fashionable within the high street.
The temporary tattoo transfer has proved very popular within the film. Stage. TV and music industries. In addition it continues to be popular within sporting events. Tattoos are also popular in product launches. Music festivals. Fund raising.  Private parties. Stag and Hen weekends. memorials, and importantly just looking cool and being fashionable.
Showing all 2 results