DTF Direct To Film
Introducing the latest digital transfer innovation under our DTFMagic® brand.
Direct-to-Film (DTF) is a new innovative transfer technology that garment decorators and promotional product suppliers have been waiting for; eco water-based inks; no pre-treatment required, soft feel, durable and suitable for cotton, polyester, performance fabrics, workwear, pique fabrics, canvas, leather, denim and lots more, all regardless of garment or item colour.
The DTF transfers offer strong vibrant colours. Excellent washing durability and stretchable properties. Lowest cost per full and single colour digital transfer print ever. Apply all transfers using a traditional heat press. The DTFMagic® digital printers simplify the production of transfers without the need for screens or cutting and weeding whilst offering a precise colour gamut for complex and intricate multi-colour designs.
For those considering an affordable and reliable alternative to DTG, but prefer the look and feel of textile inks, DTF technology is exactly what you are looking for. This new technology "Bridges the Gap" between DTG, screen printing and traditional transfer printing methods.
Not only are the DTF transfers suitable for full colour transfer onto Cotton (Combed, Ring Spun, Organic & Twill). But also Polyester, Poly-Cotton, Performance & Sports Fabrics. And also Canvas, Denim, Cork, Leather, Polypongee, Jute, High Visibility clothing, PPE and lots more.
How Does the DTF process work?
Print the coated PET film in mirror image using the pre-set colour profiles of the DTFMagic® RIP. Powered by CADlink digital factory. The white ink is laid down on top of the CMYK inks to enable it to be compatible with any colour garment or item. The printers feature a heated print path that commences the drying process making it immediately ready for the application of the adhesive powder either using the manual or automatic processes available.
How do you apply the Adhesive Powder and Cure the printed transfers?
There are two options when it comes to applying the adhesive powder and curing the printed transfers. The entry-level option is to do the process manually and curing using either a drawer oven or a heat press with a dwell function. For volume production and reducing labour costs we suggest using the automatic shaker unit. The unit applies powder and cures all in one easy workflow operation. First the ink prints on the film, then the powder adheres to the ink. Also you can collect and reuse all excess powder.
How do you apply the transfer?
The cured transfer is now ready to be applied to a multitude of products or indeed could also be stored in a humidity bag for a minimum of 1 year before application. To apply simply pre-press the item to remove any moisture or creases. Position as required and press with medium pressure for 15 seconds at 150°c. For items that may be susceptible to scorching you can reduce the temperature to as low as 120°c and increase the press time to 20 seconds. Full pressing guide available on request. A choice of both cold and hot peel films is available. When you remove the film, the image will be perfectly fixed. You can press again to seal to the item. Matte or gloss finish options are available.

Transfer Durability
DTF transfer durability is enhanced by the unique inks and adhesive powder. DTF transfers are perfect for workwear, sportswear, fashion, performance fabrics and promotional garments over many markets. The print does not crack, can be stretched and has a very soft hand due to the water-based ink used. The finished transfers offer outstanding durability, are stretchable with incredible feel and vibrant colours.
Warranty & Support
The company offer a 12-month on-site warranty on all Direct To Film DTF equipment including parts, labour and travel. You can extend the warranty upon request. The print heads and wet parts are excluded from the warranty cover.
The technical support also includes being able to login into your system remotely to establish any issue of technical assistance required.
In addition, we offer "Transfer Print Support" in which regardless of circumstance we can offer a transfer printing service charged out on consumables cost only basis and carriage. Further details of this and our consumable rebate scheme upon request. Our sales support includes regular contact and target marketing of new and potential revenue streams.
The best way to appreciate and understand how Direct To Film DTF works would be to book a demonstration. You can visit our new DTF Showroom/Training facility here in Dunstable. Or alternatively book a Zoom online demonstration, both of which can be booked directly.
Should you require printed samples or further information contact us directly at sales@themagictouch.co.uk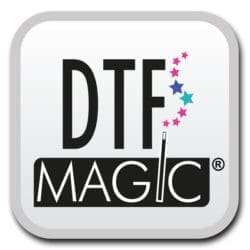 Read More