CPM Hard Surface Transfer Paper
CPM Hard Surface Transfer Paper
Special coated toner transfer paper for smooth surfaces such as ceramics, metal, PU coated products, board, card, leather and lots more.
One-step process. Most applications used in conjunction with application pads.
Video Tutorial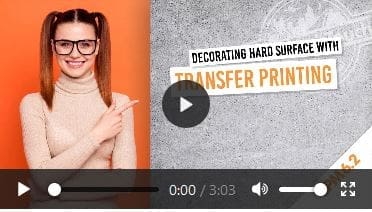 The CPM hard surface transfer paper is only compatible with toner-based copiers and printers and in most cases applied using a traditional professional heat press.
Available Sizes: A4, A4R, A4XL and A3.
Due to the vast range of printers and copies compatible with the CPM product a range of format are available to suit you individual requirements.
CPM 6.2 A4
For traditional copiers or printers with long-edge feed direction
CPM 6.2 A4R
For most desktop printers with short-edge feed direction.
CPM 6.2 A4XL  (220mm x 420mm)
for selected TMT/Oki printers that support custom paper sizes. This paper enables them to print longer sheets at a maximum width of 220mm. If you are uncertain if your machine will support this paper – please contact our technical department.
CPM 6.2 A3
suitable for all A3 size copiers and printers.
Feeding CPM  transfer paper in the wrong direction through your copier or printer could result in the jamming your fuser unit. Please contact our technical department should you require and specific clarification.
Showing all 10 results