Sublimation Printers
Sublimation Printers
The Next Generation of Sawgrass SG Sublimation Printers have arrived
TheMagicTouch (GB) Limited is proud to introduce the SG500  and SG1000 printers, are available now!
Equipped with WiFi capability, backlit LCD screens, and delivering higher image quality than ever, the SG500 and SG1000 are perfect for either sublimation beginners or established businesses. For complete peace of mind, both printers come with a 2-year warranty and lifetime technical support.
Sawgrass SG printers are designed specifically for sublimation and therefore offer some of the lowest startup costs of any product decorating technology.
Each printing system is fully integrated and includes everything you need to run a sublimation business:
+Sawgrass Print Manager
+CreativeStudio Online Designer
+SubliJet UHD Inks
+In-house Sawgrass and TMT Support
Sawgrass SG500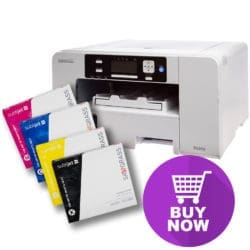 The SG500 is the perfect start to creating personalised products at home. With low start up and running costs, you'll soon be creating customised products with vibrant HD images – quickly, easily and profitably.
---
Sawgrass SG1000

Grow your business with the Sawgrass SG1000 sublimation printer, perfect for producing small products at high volumes or larger personalised products. Easy to learn and use, this desktop printer will help you bring custom products to market in record time.
---
Sawgrass Printers
Create like never before with the Sawgrass SG500 UHD Sublimation Printers Product. Sawgrass Virtuoso systems are the industry's first and only fully integrated desktop solution designed specifically for sublimation.
The SG printers is nearly 2 times faster than its Ricoh predecessor. The printers can produce up to 156 prints per hour. The built-in, self-cleaning routine keeps the printers running at their best. This ensures money-making uptime with minimal power and ink consumption.
Therefore given you the highest definition prints possible.
Virtuoso UHD Product Decorating Systems feature the only printers designed specifically for sublimation printing using SubliJet-UHD inks. These next generation printers also deliver the highest resolution prints possible for dazzling, photo quality reproduction – Up to 1200 x 1200 dpi!
SubliJet HD Inks
Extremely vibrant, realistic colors with deep blacks and neutral greys. Factory-sealed, single-use cartridges eliminates outside contaminants
Low Startup Costs + Low Image Cost = Fast ROI
Virtuoso HD Product Decorating Systems offer some of the lowest startup and imaging costs of any product decorating technology. Combine this with exceptional versatility for creating products that customers love, and Virtuoso systems deliver fast return on investment.
Warranty and Sawgrass Support.
All Virtuoso HD Product Decorating Systems come with either a one-year or a two-year warranty. Check with your dealer for details. The Sawgrass Support program also provides real time total system support for your printer, ink and software – all in one place!
Faster Speeds, Greater Productivity.
The optional Bypass Tray extends maximum media size up to 8.5″ x 51″ for the SG500. The SG500 also has an additional 250 Sheet Paper Feed Tray option.  This enables you to keep multiple paper sizes ready to print on demand.
Read More