Duraluxe
The only sublimation printable Aluminium sheet with Certification for out door use (5 Year Minimum), can be cut and sheared without chipping,can be bent and formed, has anti graffiti protection and has a Class A fire rating.
Unique HD powder coated aluminium product offers UV resistance together with anti-graffiti properties delivering innovation for full colour outdoor signage as never seen before.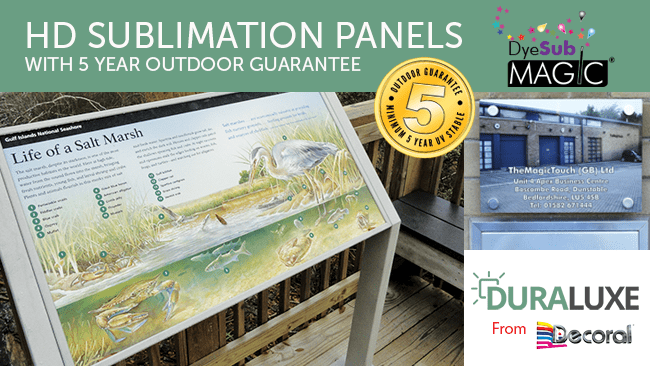 Traditionally, full colour transfer decoration of aluminium panels printed using any sublimation ink has not been suitable or acceptable for outdoor use due to poor durability against the effects of UV, graffiti and weathering.
TheMagicTouch in partnership with the manufacturer, Decoral Inc., global leaders in powder coating technology for the past 30 years, introduce for the first time Duraluxe™ a new "double" coating process to the 1.2mm thick aluminium sublimation panels. The blank panels are printed in full colour using sublimation ink transfers and a suitable professional transfer heat press. The finished product comes with a certified minimum 5-year guarantee for use outdoors.
Printed aluminium panels have proven very popular for indoor use and are commonly manufactured using various liquid coating technologies. The market for outdoor signage requires certified UV protection but with liquid coatings, this has not been possible.
After extensive research and development at Decoral's Lab facility in Florida, USA, combined with certified accelerated weather testing to the ISO 11664-4 standard, Duraluxe™ has secured an unrivalled position with a real 5-year outdoor minimum guarantee. The panels also offer superb anti-graffiti qualities against inks and sprays.
The unique patented "double" powder coating process also enables the panels to be trimmed and shaped easily avoiding any flaking or sharp edges
---
Showing all 8 results