123 Premium (HTV)
123 Premium Flex is a specially developed PVC Free Flex. With the advantage of no pre-press required, cold peel. Combined with the reduced application time of 3 seconds. You can also press at temperatures as low as 120 to allow for delicate fabrics.
Self adhesive backing for easy weeding and application. Suitable for cotton, polyester and mixed blends.
Currently available in a range of 41 colours. As well as an additional white version with embossed backing. For more visible weeding.
Due to the complex production process of Neon colours you may see some variation in different Rolls/Batches.
Please note – due to variations in screen displays, colours shown are a guide only. If you require a swatch or material sample please contact sales@themagictouch.co.uk.
Also in the range we now have 123 Premium flex with an Embossed reverse. For more visible weeding.
Using a bespoke precision engineering process during the manufacturing. An embossed effect on the hotmelt backside is applied. Enabling cut lines to be more visible. Thus making the weeding process easier and quicker.
The same colour range is also available in 123 Flex.
123Premium Flex  Heat Transfer Vinyl (HTV) offers the same attributes and technical advantages as the existing 123 Flex with the quick press time and the low temperature application options. The Premium version, however, possesses a 'tackier' carrier adhesive. Enabling detailed and complex designs to be easily cut and weeded.
Hot application is a 3-5 second press to the garment at 160°C and a warm peel. No garment pre-press is required.
For easily marked or sensitive fabrics 123 Premium can be applied at 120°C for 20 seconds with a cold peel.
Washable up to 60°C.
Available in 41 colours, with additional white version with embossed backing, for more visible weeding.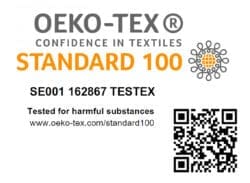 MagiCut HTV is also known as Tshirt Vinyl, Printable Tshirt Vinyl, Clothing Vinyl, T shirt vinyl, T-shirt vinyl.
Processing Instruction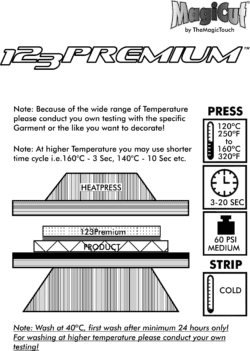 ---
Showing 1–16 of 43 results