Duraluxe ™ a new "double" coating process to the aluminium sublimation panels. TheMagicTouch in partnership with the manufacturer, Decoral Inc., global leaders in powder coating technology for the past 30 years, introduce for the first time The blank panels are printed in full colour using sublimation ink transfers and a suitable professional transfer heat press. The finished product comes with a certified minimum 5-year guarantee for use outdoors. Duraluxe is a unique powder coated HD aluminium product that offers UV resistance together with anti-graffiti properties delivering innovation for full colour outdoor signage as never seen before.
Traditionally, full colour transfer decoration of aluminium panels printed using any sublimation ink have proved unsuitable or acceptable for outdoor use due to poor durability against the effects of UV, graffiti and weathering. The unique patented "double" powder coating process also enables the panels to be trimmed and formed easily avoiding any flaking or sharp edges. Duraluxe when decorated is perfect for high quality signage requirements and a cost effective alternative to vitreous enamel signage with stunning full colour imaging. What is Powder Coating?
Powder coated aluminium involves applying dry paint to an aluminium product by way of electrostatically charging the powder and then spraying it onto the product. Decoral's exclusive patented aluminium coating technology allows for perfect surfaces to decorate every time.
Examples of powder coating aluminium products are windows for residential and commercial projects, appliances, outdoor furniture, elevator doors, decks and railings, and even aluminium wheels.
Powder coating is a durable and results in a finished product that withstands harsh environmental conditions. These include extreme UV exposure, salt spray and heavy pollution.
Maintenance
The duraluxe panels are graffiti resistant therefore possible to clean the surface with water, white spirit, alcohol or acetone using a dry non-abrasive cloth.
Benefits of Duraluxe
No rust or corrosion
Heat Resistant
5 year UV Warranty to ISO 11664-4 standard
Resistant to weathering, salt and air carried chemicals
Stunning full colour print options up to 1200dpi
Easy to cut, trim and form.
Range of pre-cut sizes available together with master sheets up to 48 x 96" (plus equivalent in metric)
Cost effective signage.
Easy to punch holes and round corners if required.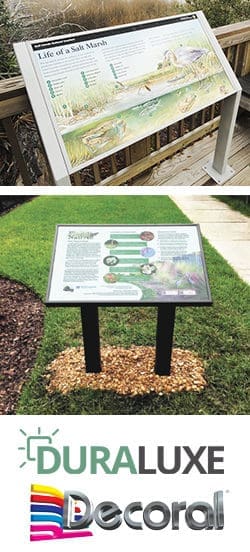 Buy Now