Tattoos without the Pain!
Temporary Tattoo
As global pioneers of the digital image transfer process. TheMagicTouch(GB) continue to offer the best solution ever for personalised temporary tattoo transfers.
With the increasing popularity of tattoos in many different aspects of society today. Having a simple, safe, pain free, easy process that enables you to produce full colour, durable and realistic tattoos. Offers a great opportunity in many markets.
The A4 temporary tattoo transfer paper can be printed using a toner-based CMYK laser and LED printers. The printed transfer is then bonded together by hand with the supplied A4 "medical grade" adhesive sheet. Both the paper and adhesive sheet can then be easily trimmed to the desired shape. This can be by hand or profile cut using a traditional plotter/cutter for volume and production capabilities.
Temporary Tattoo Application
To apply, simply peel the clear protective film from the bonded trimmed tattoo. Position on the skin (non-hairy areas for best results!). Using a wet sponge or cloth dampen the backing paper liberally with water for 10-15 seconds. Now slide the carrier paper away. With a dry cloth absorb any excess water and gently dry. In normal room temperature the tattoo takes about 15 minutes to cure. Gradually over a few hours the shiny finish becomes a matt effect revealing a superb realistic tattoo. To achieve the matt effect quicker, simply dab some talcum powder over the tattoo.
The tattoos are very durable. Even after showering and will last for around one week. Furthermore temporary tattoos are easily, safely and quickly removed using hot soapy water. In addition baby oil is useful to remove them at any time. Unlike the real tattoos!
The process is also perfect to decorate finger and toe nails. This again continues to be very popular and fashionable within the high street.
The temporary tattoo transfer has proved very popular within the film. Stage. TV and music industries. In addition it continues to be popular within sporting events. Tattoos are also popular in product launches. Music festivals. Fund raising.  Private parties. Stag and Hen weekends. memorials, and importantly just looking cool and being fashionable.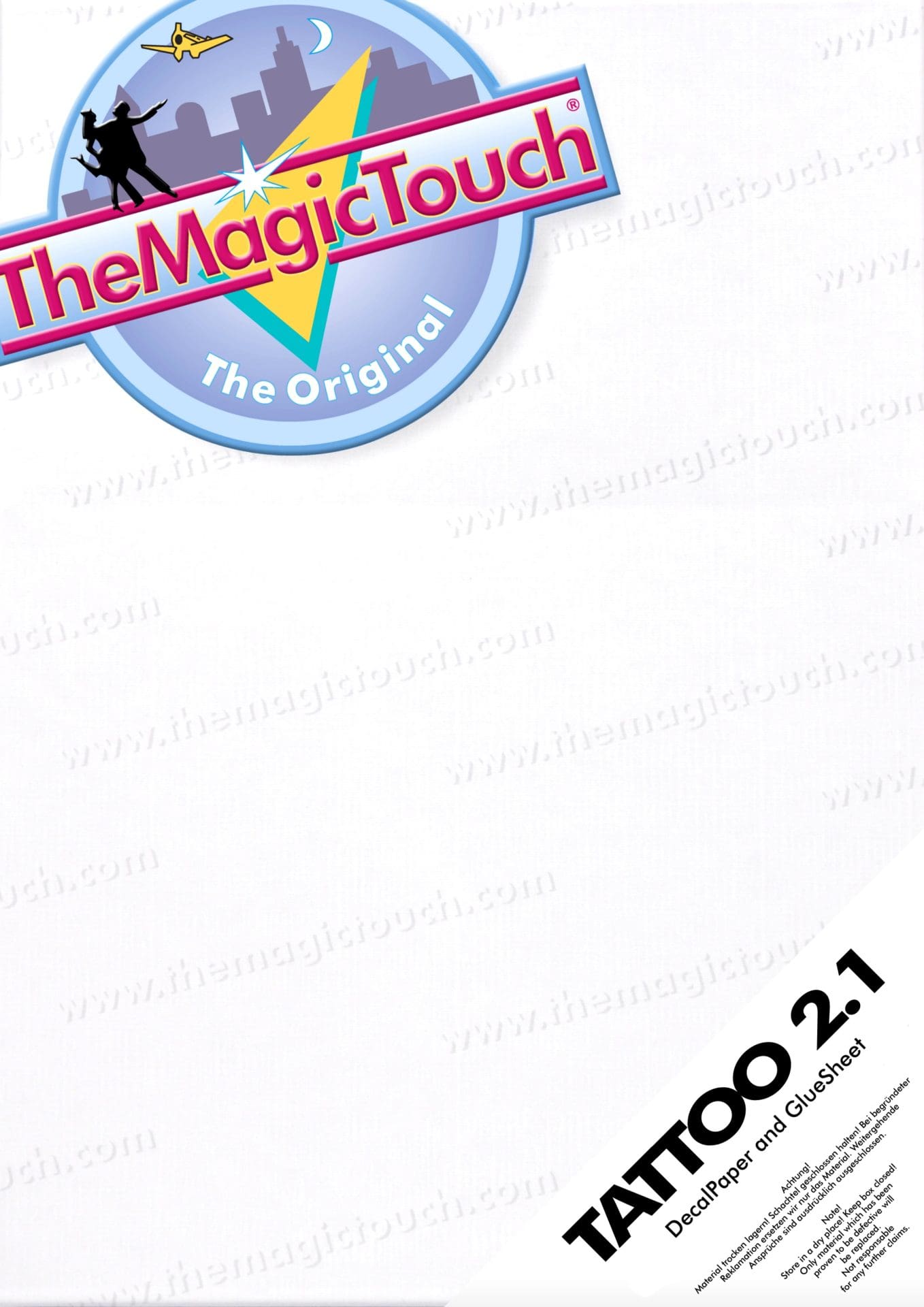 Available  in pack of 10 or 25 sets.
(Set: A4 paper & A4 adhesive sheet)